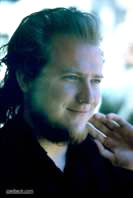 That's how it was for Joel Beck, enigmatic cartoonist and granddaddy of the underground, whose passing into the great canvas of the sky back in 1999 has left many perspiring hopefuls clamoring for the work of this unsung genius. His influential comic Lenny of Laredo, a "loose" biographical allegory on the life of Lenny Bruce and the Berkley Free Speech Movement, pretty much created the underground comics extravaganza of the '60s. . . and as a regular contributor to such legendary humor rags such as The Pelican & Berkeley Barb, he was voted the nation's "top" college cartoonist by humor magazine editors in 1965. Pretty good for a guy who never attended college or graduated from high school for that matter.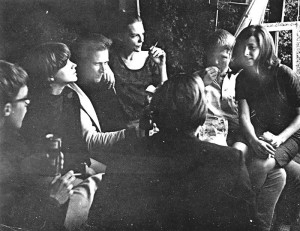 Throughout his career, Joel Beck lived on the fringe of artistic obscurity. Inking out a living with his exquisite absurdity and comical mayhem, he existed in the shadows, creating ingenious work that to this very day surpasses many of the larger names that have grown unanimous with influential comic art. With his untimely passing before the new millennium, his art has found a whole new generation of admirers; with collectors coming from around the world to seek bidding on his most cherished original art. But who was this adorned cult figure of the underground? Just who is this artist of the street who eschewed money and fame for the pure essence of the art? Born in 1943, in Ross, California, Joel Beck was a rather ill and bedridden child. For two years of his early life, Joel fought with a combination of tuberculosis and spinal meningitis. During this time he taught himself how to draw and kept himself entertained by reading Mark Twain and watching Walt Disney Cartoons. Lifelong friend and professional collaborator Phil Howe explains: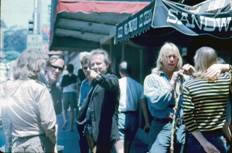 "I met him in 1954 or so when he was laid up with spinal tuberculosis. My mother told me there was a kid who was bedridden and he was my age and lived around the corner. So I blew up some balloons as a present and went over to meet him."
"What an incredible sense of humor he had and that day was the beginning of a lifelong friendship which ended with his untimely (but not unexpected) demise."
Early success came to Joel Beck while attending De Anza High School in El Sobrante, CA. where he was the cartoonist/designer for the school's yearbook. One day the California Yearbook Competition Committee asked for the senior edition of the class yearbook to be entered into a state contest with every other school district. The next day the school was informed that they had won first prize in the competition, and it was all because of Joel Beck's design & art . . . . Joel dropped out not to long after. Leaving El Sobrante and relocating to nearby Berkeley, Beck set up shop in a notorious housing unit known as Haste House located on the Berkeley University Campus. Phil Howe remembers:
"Joel had moved into a rather large closet in Haste House in the mid-1960s and he lived there with his girlfriend, Theresa. He always had an attractive lady with him in his younger days. I had just graduated from college and rented a room upstairs and Roger Brand, another underground cartoonist and lifelong friend of both Joel and mine, lived in the house as well as a number of other friends and acquaintances.  Everyone was in their early twenties, young healthy, and horny. We used to have big family-type dinners at the house and it was here, under the influence of methamphetamines, that Joel would sleep all day and stay up all night drawing his fantasy drawing and wild cartoons for the Pelican Magazine in his now infamous windowless closet. He had made a loft type bed where he and Teresa would sleep and there was a communal kitchen we all used and no one cleaned up."
It was here at Haste House, that Beck started what turned out to be the most prolific part of his career. Making his first national appearance as a contributor to Harvey Kurtzman's Help! Magazine, Beck began a rather fruitful run as a cartoonist for the University of Berkeley's humor mag The Pelican.
"One day Joel slipped a few cartoons under the door of the PELICAN, ran away, and the next month they were published. So this kept up for a few months and eventually, Joel went by the office and introduced himself. Joel really was a painfully shy kind of guy."
-Phil Howe
With his sharp eye for wit and political absurdity, his editorial cartoons gained a legion of fans on the Berkeley campus as well as in other areas of the country. Sleeping throughout the day and working at night, popping speed to make deadlines and draw, draw, draw – Beck created an endlessly productive amount of strips and paintings. Soon his art was being circulated in The Berkeley Barb, The Charlatan, as well as dozens of other humor college magazines. It was during this time at Haste House that Beck completed what was to become a groundbreaking exercise in underground comic art. At the time, Underground Comix was a beginning fad among the younger generation, with numerous hand-stapled comic sheets being distributed by hand to young absurdists everywhere, such as Jaxon's God Nose and Frank Stack's The Adventures of Jesus . . .
Lenny of Laredo, a hilarious allegory on the life of Lenny Bruce as well as a scathing satire of the Free Speech Movement on the Berkeley Campus, was the first of the bunch to be professionally offset on acid-free paper and have a large print run for a one-shot comic. Although sales were slow moving at first, the book began to pick up momentum, especially as Beck's name became ever more popular with the then booming college crowd. Publisher of Lenny of Laredo, Phil Howe remembers:
"Printing Lenny was nothing big at the time, and we didn't sell all that many copies, but it turned out to be a seminal event in the history of underground comics. There may have been another book published a little earlier but Joel's was the best artistic effort (he was one helluva an artist) and it was definitely the first one published in the bay area."
W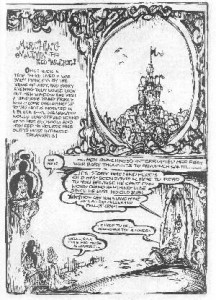 ithin a year, Lenny of Laredo was in its 3rd printing through a company called Print Mint, and 1st edition copies were being sold to die-hard collectors for biddings of $250 and up. Around this time, Joel helped conceive what was to be a benchmark underground paper entitled Yellow Dog with co-conspirators John Thompson and Don Schenker, as well as completing work on another important comic of the times . . . . Marching Marvin. Marching Marvin: The Red Watcher is a fantasy/satire of McCarthy-era values, and the way conservative thinking is enforced on more liberal minded views of art and social status. He continued with this theme of conservative morality in another tale of comic madness published a year later . . . entitled The Profit.
The Profit concerns the tale of a conservative sophisticate who helps people in need through a series of "miracles" of his own design. The Profit always makes out on his supposed "offerings" while the little people are worse off by having dealt with him. The Profit best represents the political basis of Joel Beck's passion for comics and stories . . . where the progressive are down-trodden by the corporate and moralistic belief.
With three notorious comic books and a never-ending series of strips being published, Joel Beck's name began to become synonymous with the prankster image and cultural scene of the underground. He began to do posters for rock venues such as the Avalon Ballroom in San Francisco ... ... as well as creating the infamous Daisy Duck inspired classic Odalisque, which was printed by the Print Mint in 1968. Beck claims that thousands were sold before Walt Disney threatened legal action . . . and the poster was discontinued.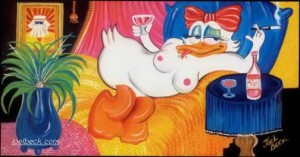 Also during this time, Beck privately worked on intricately detailed paintings of a fantasy world that existed within his imagination. Working throughout the night, he produced these artworks that have, only recently, been exposed to the light of day. As the comic revolution drove itself forward in the 70's, Beck kept his hand in many projects. He was a regular contributor to the Kitchen Sink Press anthologies Snarf, Bizarre Sex, and Dope Comix. Later that decade, Kitchen Sink reprinted Lenny of Laredo, The Profit, and Marching Marvin in a Joel Beck Anthology comic called Joel Beck's Comics & Stories. Soon other works followed, such as appearances in the Kitchen/Marvel collaboration Comix Book and the 1978 one-shot Banzai! , which he co-created with fellow cartoonists Roger Brand and Kim Deitch. Also, he completed a rare novelty item for subversive minds everywhere, called The Soft-Core Pornographic Coloring Book.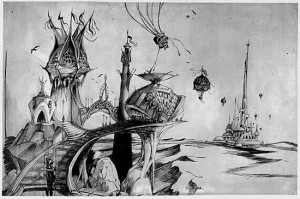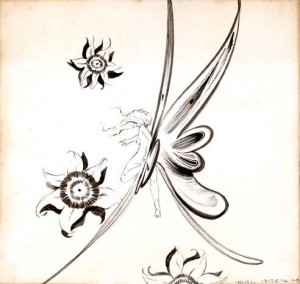 As the underground movement slowly declined in the early 80's, Joel Beck's output became more and more sporadic. His lust for alcohol began to grow deeper and deeper, and soon he was selling original artwork and strips for money to spend at the bar. Many believe his appetite for alcohol and drugs sprang forth from his early childhood operations, and all of the painkillers that were used for his spinal meningitis. Friends and loved ones looked after this forgotten artist as he dealt with his addictions, and it took a toll on all around him. Phil Howe remembers: "
Once we had an intervention for him and his parents, siblings, attorney friend and I were all there and we urged him to dry up and get help. We had a program ready to accept him and he agreed to go through with it. Well, that lasted about 15 hours and he escaped from the place, took a bus back to Pt. Richmond and headed for the nearest bar."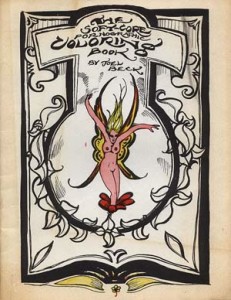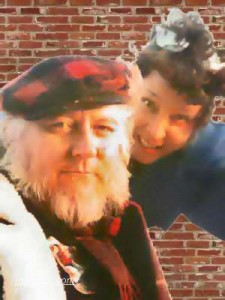 Independent until the end, Joel Beck lived a quiet solitude for the rest of his existence in Point Richmond, California. Living off of welfare aid, the occasional advertising commission, and the love and support of friends, Joel Beck's years of hard living finally caught up with him . . . he died on September 21, 1999, from Tuberculosis and injuries resulting from a recent mugging. He was 56 years old. Though certain aspects of his life may seem sad, it is important that the artist be remembered for what he did as opposed to who he was. Joel Beck created some of the first American underground comix this country has ever seen, as well as helping fuel the young political movement with his biting editorial cartoons. Instead of selling out a
nd becoming a part of the machine, Beck made a name for himself in the hearts and minds of the young; creating brilliant art for little or no pay, while still achieving the essence of the independent soul. Joel Beck was an artist of the street, speaking to the people of the street, and for all of us aspiring underground cartoonists . . . we will forever be in his debt.